Bloco Camaleões do Vila shakes up Festival Vida & Arte
For 8 years the Carnival group has taken samba, frevo, marchinha and forró to the pre-carnival of Fortaleza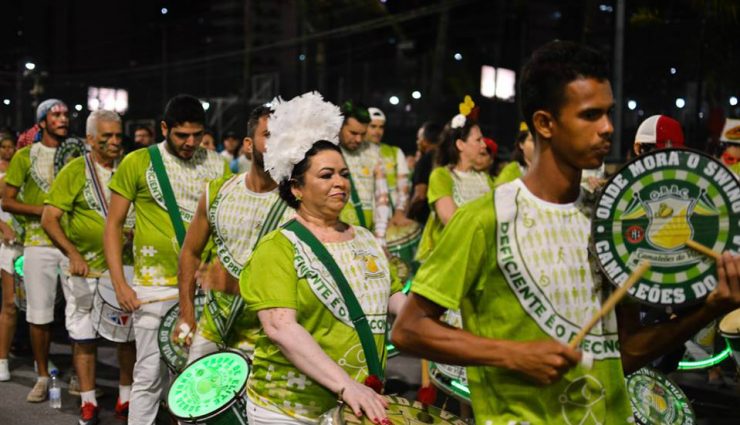 Reprodução
From the pre-carnival of Fortaleza, Bloco Camaleões do Vila lands in Festival Vida & Arte. Commanded by conductor Leandro Marechal, the group is formed by about 100 members, who are divided into six divisions according to the musical instruments.
The group emerged in 2010, from the idea of two brothers, Rebeca and Tiago Nóbrega, who had as objective to contribute to the development of the festivities in the city of Fortaleza. In its first year in the streets of the capital city, Camaleões received the title of revelation group of the pre-carnival of the capital of Ceará.
The inspiration for the group comes from the samba schools of Rio de Janeiro. Seeking more dynamism and knowledge, Camaleões have as Master of Honor Serrinha Raiz, from the carnival of Rio de Janeiro, who visits Fortaleza annually to promote workshops to the participants.
---
Camaleões do Vila
Date: Friday, June 22
Time: 7:30pm
Local: Palco Alberto Porfírio (Centro de Eventos do Ceará: Avenida Washington Soares, 999/ Edson Queiroz)
Tickets: R$ 20 and R$ 10 (half) – valid for all the lineup of the day in the event (access to spaces will be subject to capacity). Tickets for sale on the website, at the reception of O POVO newspaper (Avenida Aguanambi, 282 – Joaquim Távora) and at Lojas JEF Iguatemi (Avenida Washington Soares, 85 – Edson Queiroz) and RioMar Fortaleza (Rua Des. Lauro Nogueira, 1500 – Papicu).